Located in the City of Westminster, Mayfair runs along the eastern side of Hyde Park, with Oxford Street to its north and Piccadilly to its south, in the heart of the West End.
Although now the area predominantly consists of commercial properties, located in former homes, there is still a significant amount of residential property in Mayfair, along with exclusive shops and restaurants.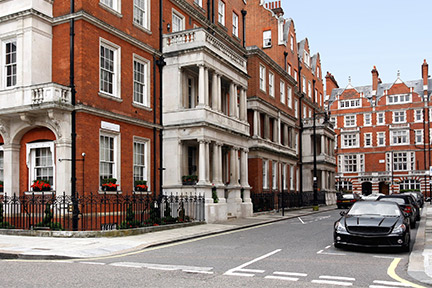 Mayfair Property
Period conversions and apartments from the post-war period are the properties that Mayfair has in abundance, while imposing townhouses with their own outdoor space are rare. As a lingering look at the listings in the window of Mayfair estate agents suggests, it is still one of the most expensive postcodes in the world, with newly renovated homes coming in at an even higher price, especially if they include additional facilities such as a concierge service. Equally, you will be lucky to find an opportunity for development, as this type of Mayfair property rarely stays on the market for any length of time and is quickly snapped up.
The handsome Georgian architecture and graceful garden squares provide an elegant backdrop to some of London's most fashionable boutiques and exclusive restaurants.
Mayfair Buyers and Residents
Baronets, dukes and earls have all lived in Mayfair property, along with royalty and overseas dignities, while celebrities often stay in the district's five-star hotels. For nearly 300 years local residents have included some the most influential and illustrious people on the planet.
Since the 1970s oil rich Arabs, new Russian oligarchs and Brunei royalty have all bought property in Mayfair. Since then they have been joined by hedge fund managers, rock stars, film stars and footballers. Famous residents from the past include: Frederick Handel, John Adams, Benjamin Disraeli, William Pitt, Winston Churchill, as well as HRH Queen Elizabeth II, who lived here as an infant.
Top 5 Reasons to Live in Mayfair
You have one of the most exclusive addresses in the world
The Georgian architecture and garden squares are hard to beat
You have some of the world's best shopping on your doorstep
Nearby Hyde Park, is one of London's largest open spaces.
The rest of London is easily accessible